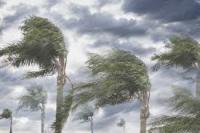 As Spring moves Summer in Banderas Bay, our weather also changes. Along with the increased temperatures and humidity comes the threat of tropical weather. While Banderas Bay enjoys the status of "hurricane hole", that doesn't mean we'll never see hurricanes. Regardless of how many times you've heard "I never happens here", those who have been here for a while will tell you, it actually has happened.
The first named storm of the season is now gaining strength off the coast, and current predictions indicate that there is a chance of it coming this way. Do you know what you would do if a severe storm entered the bay?
Being prepared for heavy weather is something every sailor understands, but those of us living on the beach should equally be prepared. One of the most important things you can do is to stay informed about developing weather. The VYC web page has a collection of weather resources at http://www.vallartayachtclub.org/index.php/en/on-the-water/information-for-sailors/weather-resources.
Preparedness also means other things. Do you have a plan? NOAA has an excellent summary of what it takes to put together a plan here: http://www.nhc.noaa.gov/prepare/ready.php.
Be prepared, be safe, and have a wonderful summer!
UPDATE: As of mid-day Sunday, at Category 4, Hurricane Amanda is now the most powerful Pacific hurricane on record for the month of May. The good news is that it is expected to reduce to a low pressure system by midweek next week, well before it comes ashore.